GET INVOLVED!!
We are always on the look-out for just the right person to join our team. And there are other things to do besides dog handling.

---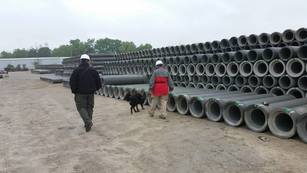 FLANKER:
Team personnel who are deployed alongside K9/handler teams. They are an essential resource to the SAR mission as they serve as expert navigators, clue finders, radio operators, and scribes. They also assist with patient assessments and treatment, and are second pair of eyes and ears to the K9/handler team. Flankers are trained to be proficient land searchers which includes, knowledge and experience in navigation (map and compass), GPS, wilderness first aid, CPR, wilderness survival, incident command system, crime scene preservation, clue awareness, lost person behavior, and other aspects of SAR fundamentals. By the time a flanker is qualified to be in the field, they will have personally acquired their "field ready" pack to self-sustain for 24 to 48 hours.
---
---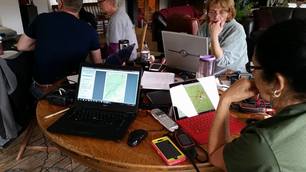 COMMUNICATIONS / BASE OPERATIONS:
Eagle Valley Search Dogs is seeking a communications manager. Our ideal communications manager may have some background in coordination and communication but dispatch or radio experience is not required. Any experience or skill sets involving the tracking and coordination of people's activities in real time, serves as a valuable asset for this position. This person is responsible for providing frequent radio checks with SAR personnel in the field, while maintaining detailed radio logs at trainings and searches. This position will also oversee activities at base including but is not limited to: Maintaining sign in and sign out sheets and overall security of team vehicles and equipment. This person is our eyes and ears at base. ​
---
---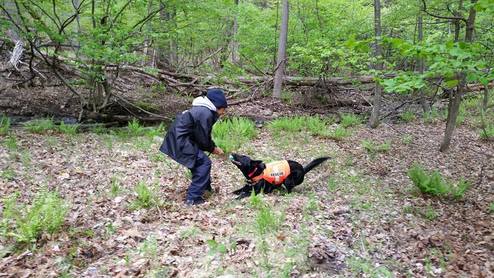 SUBJECTS:
If you just love to play with dogs and be around dogs or if you just want to come and see what we do and help us out at the occasional training, we are always looking for new people to hide for our dogs. It's like a game of hide and seek. You hide and when the dog finds you, you have a big fun play session to reward our dogs. Volunteering your time in this way is invaluable to our dogs training, who need to learn to find all types of people. If you are interested in spending a day out in the woods with us and playing with dogs, please contact Diana Bzik at
dianabzik@evdogs.org
to get the next scheduled date for you to come out.
---
---
​DONATE
Our team is 100% volunteer. Which means all of our operational and training costs comes out of our volunteer's own expense. This includes our equipment, training, education, travel expense, vet expenses, etc...We rely on the generous contributions from our supporters. If you would like to help but cant' commit to any of the above, consider donating to our team.
Checks can be sent payable to: "Eagle Valley Search Dogs" to the address: 600 Clove Valley Rd, High Falls, NY 12440
---
​FUNDRAISING
​
Please support our volunteer Search and Rescue Team when shopping Amazon this holiday season. Simply go to
smile.amazon.com
and enter "Eagle Valley Search Rescue andrecovery" (yes, please include the typo) as the organization you'd like to support. Amazon will donate a portion of your purchase price to our team.
Thank You very much for your contribution.