About Us
Eagle Valley Search Dogs is a non-for profit organization, part of Eagle Valley Search, Rescue and Recovery Team, Inc. a 501(c)3 corp. / DBA - Eagle Valley Search Dogs.
We are an all-volunteer search and rescue canine team with over 70 years of combined search and rescue experience, dedicated in developing highly trained handler/k9 teams to locate lost and missing people.
Our headquarters is based in the Hudson Valley of Upstate New York; however, our resources are available to respond from NY, NJ, and PA.
We develop our resources and train our members to meet certifications per national standards those set forth by the
International Police Work Dog Association
, the
New York Federation of Search and Rescue
and the
Search and Rescue Council of NJ
.
Our training complements (not duplicates) the capabilities of law enforcement and fire-rescue agencies in our area.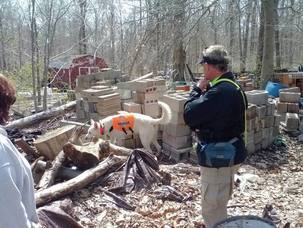 Our services are at no charge to the subject, agencies, or families. These include but are not limited to:
Area Search (Wilderness or Structural)
Human Remains Detection
Water Recovery
Evidence Search
We are also available to assist during disasters or other emergencies as requested.
To contact us: call 917-364-4917 or email us at
karen@evdogs.org
If you are law enforcement, fire-rescue, or any other requesting agencies who maybe interested in learning more about what we do and the services we offer, please contact us to join us at one of our trainings.
---