Are you interested in becoming involved in a good cause? Do you have an interest in helping find missing or lost people? Do you like being active in the outdoors? Do you like being around dogs?

If you have answered yes to the above, consider becoming a member of Eagle Valley Search Dogs, a Search and Rescue team comprised of SAR professionals with over 80 years of combined search and rescue experience. We are looking for committed and dedicated individuals who are interested in joining and filling a variety of positions such as K9 Handlers, Flankers, and Support Staff (Planning & Communications).

Prior experience is not required but candidates should possess the following qualities: A desire and willingness to learn, a commitment to training and proficiency, self-motivation, integrity, team player mentality, a comfort with the outdoors, and a passion to help others. If this describes you please continue reading.....
What is Search and Rescue?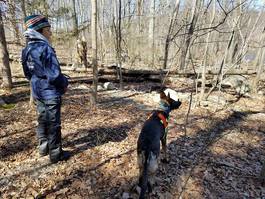 Search and Rescue involves a team of trained personnel who are requested by an agency such as LE, FD, OEM, or other SAR teams to assist in searching for someone who maybe missing, lost, or overdue and may be in distress. This can include but is not limited to the lost hiker, overdue hunter, child or autistic individual who may have wondered away, Alzheimer's or Dementia patients who have wondered away from their residents, at risk persons or despondent and more. Other types of cases include recovery missions and forensic type searches where the skills of trained SAR professionals can be of assistance to an agency.

Those that are involved in search and rescue come from all walks of life, professions, and backgrounds but what they all have in common is 1) a love of the outdoors and 2) a desire to help people. There are approximately 1500 search and rescue teams in the US that are predominantly nonprofit organizations with a common goal; to offer search, rescue, and recovery services to agencies and the families at no cost. These organizations fund some of their operating costs through fundraising and donations. Their non-paid personnel consists of dedicate volunteers who contribute their own time and most often their own expense for travel, training, continuing education, and personal equipment.

Search and rescue is physically and mentally challenging and requires a large commitment of time and self-motivation to achieve the expertise and proficiency to become a certified, reliable, and efficient resource for a search mission. Depending on your specialty, such as a K9 handler, the time commitment required can range from 3 to 4 days per week, in addition to team trainings, team meetings, workshops, seminars, and other continuing education programs throughout the year.

Search and rescue is not hobby or a social club, it's a life style driven by a dedication to help reunite the missing or lost with their loved ones. The expense and commitment is outweighed exponentially by the fulfillment in providing families with this invaluable service.
---
Field Positions Recruitment
We are currently recruiting for the following two types of field positions, Flankers and K9 Handlers. Both field positions require that the candidate be comfortable being in the outdoors and in the wilderness, in any weather conditions (e.g. rain, snow, hot and humid weather, temperatures in the single digits) and have the physical stamina to walk through steep and uneven terrain, walk nonstop for several hours, travel distances ranging from 5 to 10 miles, and be on their feet for an 8 to 10 hour day.

Flanker: Team personnel who are deployed alongside K9/handler teams. They are an essential resource to the SAR mission as they serve as expert navigators, clue finders, radio operators, and scribes. They also assist with patient assessments and treatment, and are second pair of eyes and ears to the K9/handler team. Flankers are trained to be proficient land searches which includes, knowledge and experience in navigation (map and compass), GPS, wilderness first aid, CPR, wilderness survival, incident command system, crime scene preservation, clue awareness, and other aspects of SAR fundamentals. By the time a flanker is qualified to be in the field, they will have personally acquired their "field ready" pack to self-sustain for 24 to 48 hours.

K9/Handler: Team personnel that consists of K9 + handler. K9/Handler teams have proven over decades that they are an invaluable resource for locating missing persons in various settings such as natural disasters, structural collapses, dense wilderness, mountainous terrain, avalanches, and water. The K9/handler team has an incredible partnership that is developed and strengthened by the extensive training and time commitment required to be successful in the field.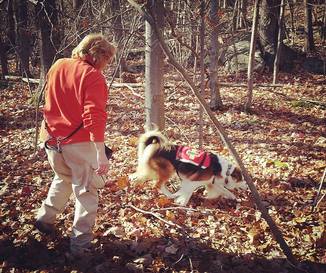 A dog's sense of smell is 200 times greater than a humans. While it's hard wired in the dog's DNA, K9 handlers spent hundreds of hours a year training their dogs to hone in to the source of the scent, identify which direction it's coming from and from how far away. However; the training required is not just for the dog, the K9 handler must train just as hard to learn how to read their dog's body language when scent is detected and must know how to best guide the dog through various scenarios and challenges in the environment. This is 100% team work!

Training a dog in search and rescue has traditionally involved having a new comer work alongside an experienced handler, being mentored along the way at trainings. A new handler learns by watching other K9/Handler teams work and picking up training techniques that have been proven for years. Handlers at Eagle Valley have a combined 80 years of search and rescue experience who have served in well-known missing person cases, cold cases, 9/11, and more. To be mentored by them and work alongside them is like having a wealth of knowledge at your finger types. Ask away and they are always willing to teach the eager pupil. Our member's investment in this mentorship requires a commitment in return from the candidate to follow through with the advice and guidance that is offered and take that information and put it to practice between regularly scheduled team trainings. Self-motivation is not only essential towards your success in search and rescue but it is highly expected to being a member of Eagle Valley Search Dogs.

The first priority for a new K9 Handler is to fulfill their requirements as a Flanker. It is absolutely necessary for a K9 Handler to possess all of skills acquired in flanker training. While obtaining all of their qualifications as a flanker, the prospective handler's dog will undergo an assessment for temperament, stamina, and drive. It takes a very special dog to meet the demands of search and rescue and it's important to keep in mind that there is the possibility that your dog may not be best suited for a the important job we are asking them to do. Therefore, you may need to consider opening up your home to an additional dog that best meets the potential of a SAR dog, and our team members can assist you with your selection process, if you choose to do so.

You do not need a dog to start on our team, and since all field personnel begin as flankers, but we can assist you with your dog selection process when the time is right.
---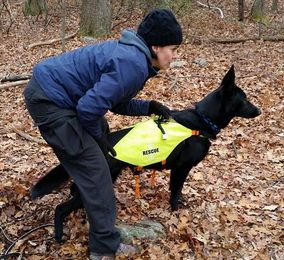 Handlers that are new to SAR will be required to begin their dog's training in "air scent" (searching for someone who is presumed to be alive) before being eligible to cross train for HRD (human remains detection). We believe that training a K9/handler as an "airscent" team first builds them up to have a stronger foundation in scent theory and area coverage before moving onto other disciplines like HRD.
The candidate is required to put in additional training time between team trainings (at least 3 times a week) on their own in order to progress as a K9 handler team. Becoming an operational handler cannot be obtained by training once or twice a month.
In addition to search work, a K9 handler is required to work on their dog's obedience, socialization and agility skills. It is important to have the realistic expectation that this level of training and all that it encompasses will take a minimum of 18 months to 2 years to successfully get you and your dog ready to begin certification testing. Only when certifications are passed can you and your dog be fielded.
​
Eagle Valley SAR Dogs ONLY deploys K9/handler teams that have qualified and passed their required field ready/certification testing. Eagle Valley does NOT deploy trainee K9/handler teams to searches because we feel it is a risk and liability to the subject.
If you feel you have what it takes to become a valuable asset to the search and rescue community, contact our training director Sue Lavoie at:
slavoie@evdogs.org
. who can further acquaint you with our application process.
Is a field position not for you? You can still get involved by participating in other areas. Visit our
Get Involved
page.
Want to see more of what we do, visit us on
Facebook.
​​
---